Whenever Hemant and I go out for Thai food—if I don't get green curry—I'll usually go for the red curry squash with tofu. Tofu satay with peanut sauce is another favorite, but not as easy find in restaurants. This Thai-Style Vegan Kebab recipe with its red curry peanut sauce brings all these delicious flavors together on a stick!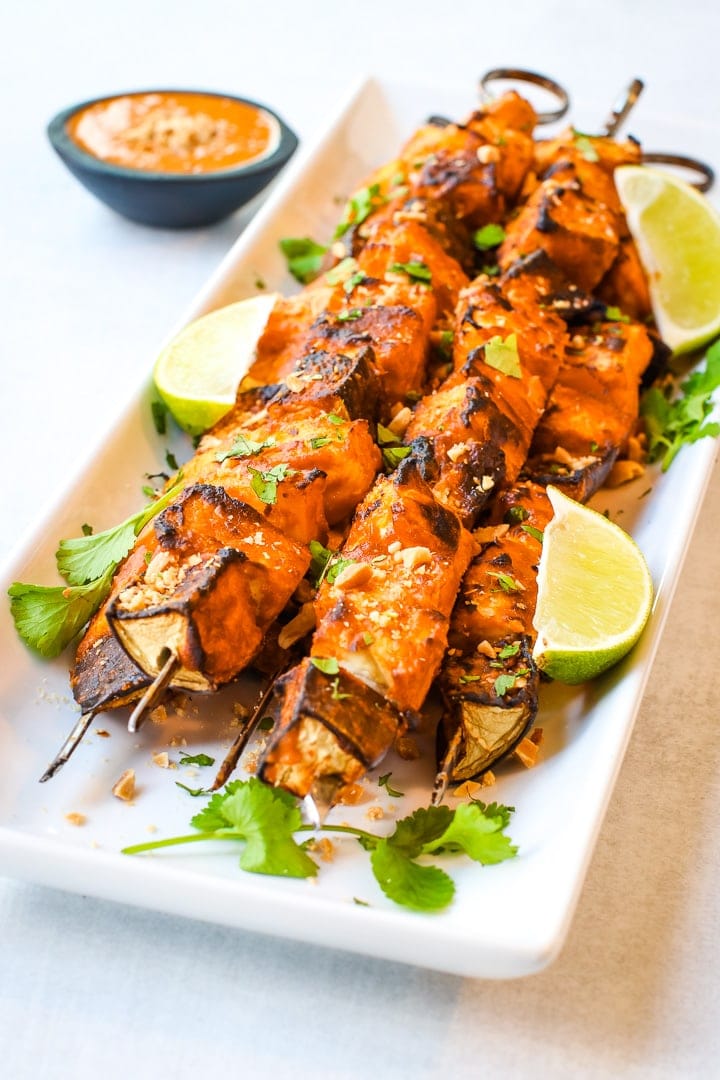 Thai Vegan Kebab with Peanut Sauce
You could use just about any veggies you like in this kebab recipe. I included eggplant because I love it, especially grilled. I used regular eggplant because it's easier to find, but Japanese eggplant would be great, too. (Leave the skins on for color and to preserve the antioxidants.)
I chose acorn squash because I can buy it cubed, which saves a lot of time in this recipe. But butternut or Thai kabocha squash would work well too. I added pineapple for a sweet/tart element. (I was also able to find pineapple already sliced.) And I included tofu because I think it's delicious grilled, but you could skip it and do all veggies if you like.
Other vegetables used in Thai cooking that I imagine would work here include bell peppers, yellow squash or zucchini, mushrooms and onions. But no matter what you choose to put on those sticks, I guarantee this is going to be delicious with its creamy-peanuty sauce and amazing grilled flavors.
How to make kebabs—My tips & tricks
When I first learned how to cook, I used to get stressed out making kebabs. I don't want to think about how many times I ended up with too-crowded skewers or ran out of one ingredient too soon.
The key to making practically perfect kebabs is to aim for relatively equal size pieces, so that everything makes contact with the cooking surface and cooks at about the same rate.
Also, use approximately equal portions of each the ingredients on every stick ensures that one person doesn't get mostly tofu while another gets all eggplant—unless that's what you're going for!
To make things as simple as possible, I like to divide my ingredients into little piles as I cut them up. In this recipe, I had 8 skewers, so I made 8 piles. Then, I kept cutting and adding ingredients until I saw that each pile had enough pieces to fill up a skewer. (You can eyeball this by lining up your pieces next to a skewer—much easier than pulling things off and starting over!)
Then, pick a pattern you like, and skewer + repeat. I repeated pineapple, squash, tofu and eggplant--in that order. Three repetitions of these ingredients filled up my skewer. But if you'd rather be random, all will work out fine—it just won't be quite as pretty.
Finally, place your skewers on an easy-to-clean surface, and brush lightly with marinade. I do all one side, then flip them all over and do the other side. (If this were a recipe where the kebabs needed to rest in a marinade, I'd place my skewers in a large casserole dish or marinate the pieces in a bag or container before placing them on the skewers.)
How to Make Peanut Sauce Low(er) Fat or Nut Free
Most of the fat in this veggie kebab recipe comes from the peanut butter used in the marinade/dipping sauce.
To reduce the fat, reduce the peanut butter to ¼ cup--or leave it out completely. Since the sauce will be thinner without peanut butter, you won't use as much, so you shouldn't need to make more. But if desired, you can increase the other ingredients to make more sauce. (See the recipe notes for more details.)
To make this recipe nut-free, you can substitute tahini or another seed butter for the peanut butter. I haven't experimented with other variations (yet!), but I have a feeling that a combo of chickpeas and miso, like I use in my Chickpea Alfredo Sauce and Chickpea Cheese Sauce in lieu of nuts, could work here as well.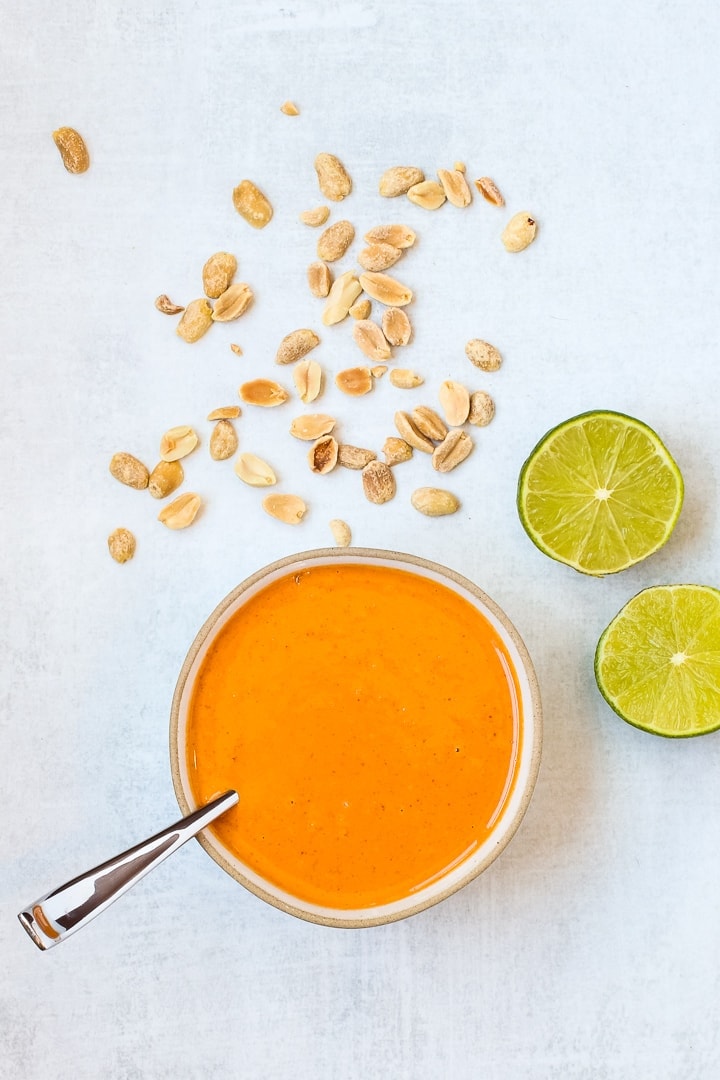 Why I love this Thai-style vegan kebab recipe
I love these kebabs because they're full of my favorite Thai flavors. I'd also call this recipe 'accidentally' vegan, meaning that non-vegans will enjoy it too, especially if they're tofu-friendly.
I plan to serve these kebabs with my Coconut Lime Rice at a dinner party I have coming up. I know they're going to be a big hit!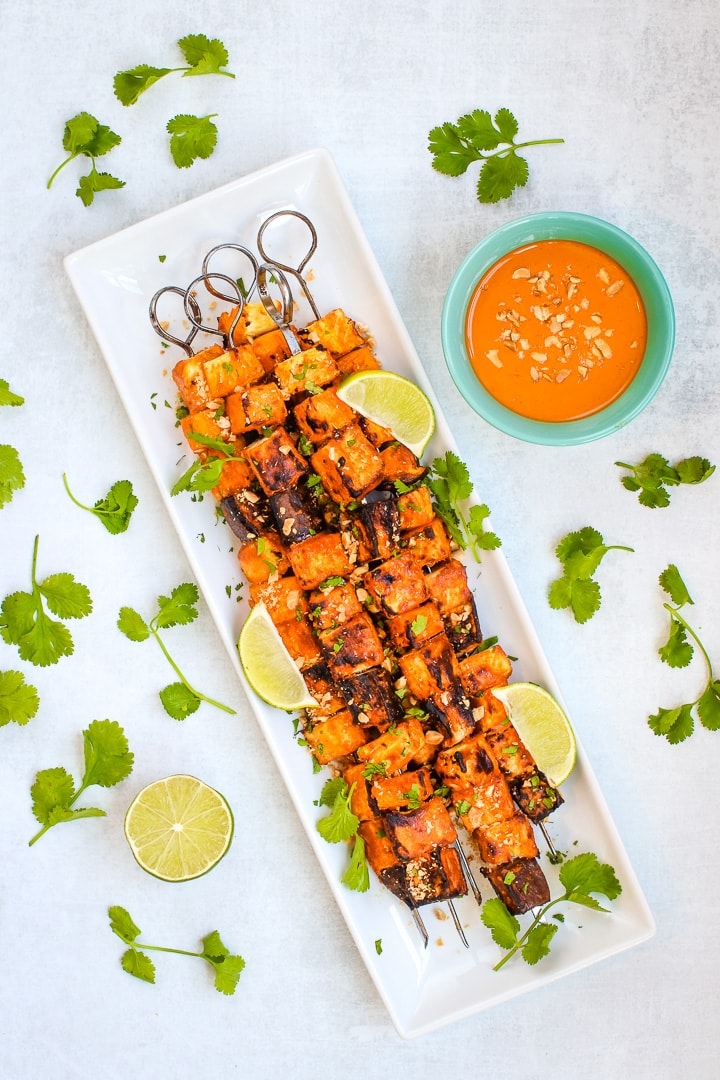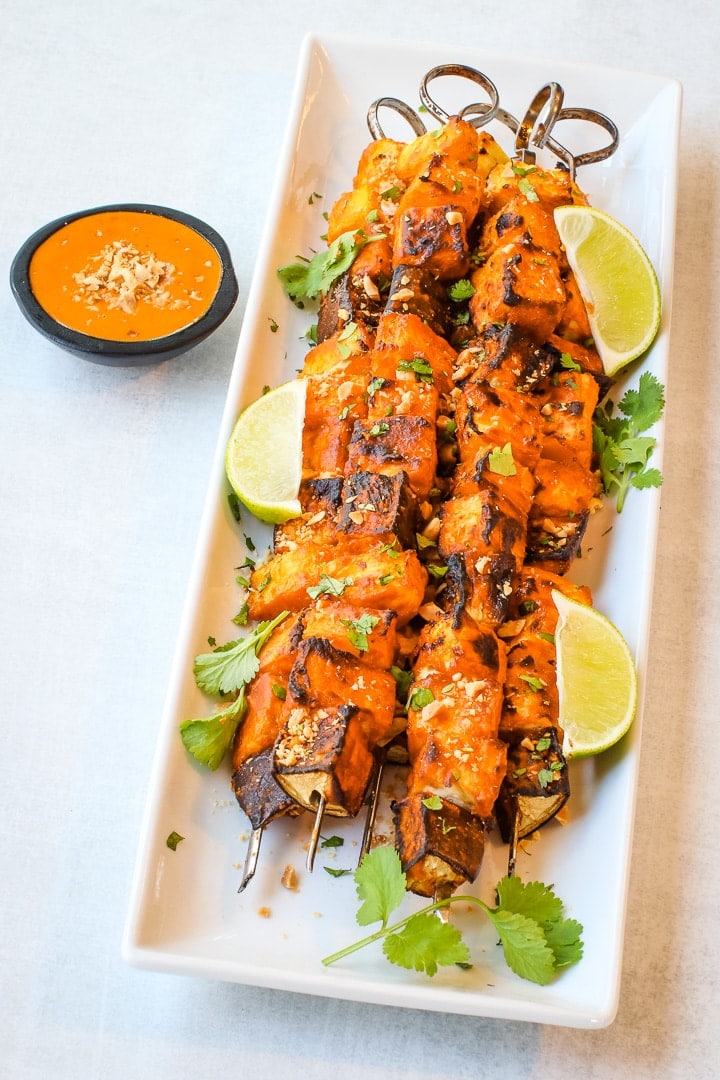 If you like this healthy vegan recipe, you might also like:
I LOVE hearing from you! Would you be so kind as to:
If you try this recipe, give it a star rating (under the recipe picture) or leave a comment (below the recipe.)
Thanks and happy, whole-food cooking!
📖 Recipe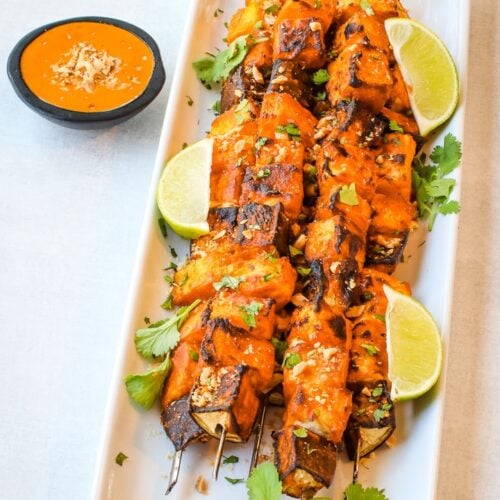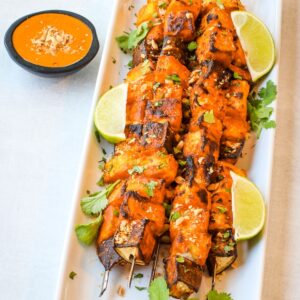 Thai Vegan Kebab
This Thai-style Vegan Kebab recipe brings tasty red curry squash & tofu satay flavors together on a stick!
Print
Save
Saved!
Pin
Rate
Ingredients
Kebab Ingredients
1

14-ounce

package extra firm tofu

pressed and cut into 24 1-inch pieces

1

acorn or butternut squash

cut into 24 1-inch pieces (buy cubed if desired. Use Thai kabocha squash if desired.)

1

pineapple

cut into 24 1-inch pieces (buy cut/cubed if desired)

1

small eggplant

cut into 24 1-inch pieces (Use Japanese eggplant if desired)
Thai Curry Peanut Sauce/Marinade (9 ingredient- about 1 ¼ cup
½

cup

peanut butter

see notes for reduced fat and nut free options

¼

cup

low sodium gluten-free tamari or soy sauce

¼

cup

lime juice

2 ½

tablespoons

Thai red curry paste

or sub ½ teaspoon crushed red pepper flakes or vegan sriracha

1

tablespoon

rice vinegar

2

teaspoons

minced ginger

2

cloves

garlic

minced

1

teaspoon

pure maple syrup

or sub 2 teaspoons date paste

1-2

tablespoons

of water to thin the sauce

as needed
Optional (for garnish)
Lime wedges

Crushed peanuts

Cilantro
Instructions
If using wooden skewers, cover them in water and let them soak for at least 20 minutes (so they don't burn).

Cut the tofu into 1-inch thick slices, and press for at least 15 minutes. (See notes.)

Whisk together all of the marinade/dipping sauce ingredients and set aside.

Cut the squash, pineapple and eggplant, and divide the pieces into 8 equal piles. Cut the tofu and add the pieces to the piles. (See notes)

Place the squash, pineapple and eggplant and tofu on the skewers, alternating as you go. (You may have to push hard to get the skewer through the squash. SEE NOTES for tips to assemle your kebabs.)

Lay the assembled kebabs on a cutting board or baking sheet, and brush with some of the marinade. Be sure to leave about ¾ of the sauce for dipping.

Grill on medium-high, or broil on high on a baking sheet or broiler pan, for about 5-7 minutes per side, or until the squash is tender. Turn the kebabs halfway through cooking, BUT keep an eye on the eggplant so that it doesn't burn. Flip more often if anything is getting too dark.
Notes
To reduce fat: Reduce the peanut butter to ¼ cup--or leave it out completely. Since the sauce will be thinner, you won't use as much. But if desired, you can increase the other ingredients a little to make more sauce. (There's a 'servings' adjuster at the top of the recipe; for example, you can increase from 8 servings to 12 to increase the sauce volume by 50%.) Also, I did not use oil, and my skewers did not stick. But if you're not using peanut butter, you may want to use a non stick surface or very lightly oil your grill.
For nut free: Substitute tahini or seed butter for the peanut butter.
To keep it healthy: leave the skins on the eggplant--that's where the antioxidants are.
To speed things up: Skip the skewers and toss the pieces with the sauce in a plastic bag, then grill in a grill basket or broil on a broiler or sheet pan.
To spice things up: This is not a very spicy recipe, but if you like a bit more heat, add a pinch of cayenne or crushed red pepper flakes to the peanut sauce.
Tips for making kebabs: Divide up your pieces: I've given exact numbers for the tofu/veggie pieces here (24, because I used large skewers), but really, when making a kebabs recipe like this one, don't worry too much about the ingredient portions. Just everything into 1-inch pieces, dividing each ingredient into 8 separate piles (or the number of skewers you have) as you go. At the end, you should have relatively equal piles will all of the ingredients, and you can then just alternate them on the skewers.
Leftover ingredients: I had some leftover squash, pineapple and eggplant pieces after making my kebabs. I just tossed them into a 1 qt. bag and labelled it 'Thai veggies.' Some weeknight I'll toss those into a pot with a Thai sauce for an easy dinner.
To press tofu: Cut the block into 1 inch slices, wrap in clean kitchen towels or paper towels, and place a heave object on top. I like to use my biggest Dutch oven.
Nutrition (approximate)
Calories:
325
kcal
|
Carbohydrates:
38
g
|
Protein:
11
g
|
Fat:
17
g
|
Saturated Fat:
4
g
|
Sodium:
686
mg
|
Potassium:
791
mg
|
Fiber:
7
g
|
Sugar:
18
g
|
Vitamin A:
1850
IU
|
Vitamin C:
70
mg
|
Calcium:
79
mg
|
Iron:
2.2
mg