Who doesn't appreciate a simple 1-pot dinner? This vegan Whole Roasted Cauliflower Tandoori is full of spicy North Indian flavors. Plus, with only about 10 minutes of prep, it's ready to pop in the oven or the slow cooker in no time. Just the thing for a busy weeknight or effortless entertaining.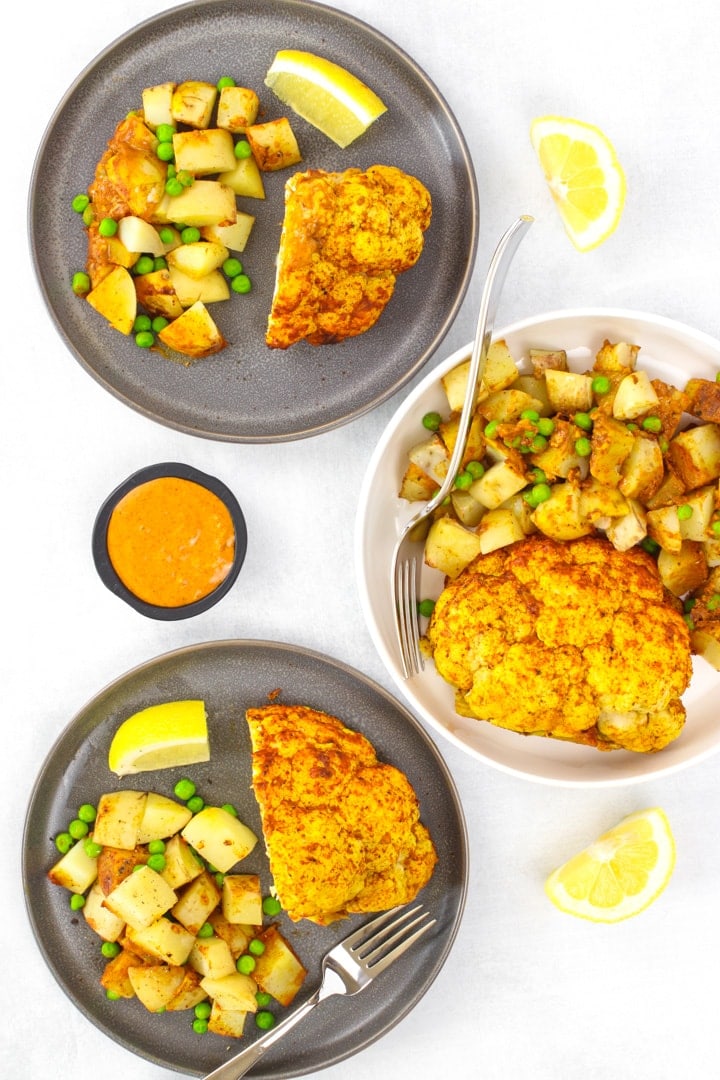 How to Cook Whole Roasted Cauliflower in the Oven
The key to successfully roasting whole cauliflower in the oven is to add just enough moisture. After all, we'd rather this dish roast instead of steam. On the other hand, we don't want it too dry. Because who likes a dry roast?
In this dish, the deliciously spicy tandoori yogurt sauce lends the perfect amount of moisture to ensure the cauliflower, potatoes and peas cook up perfectly. (You may want to add your peas toward the end—see the recipe notes.)
Broiling the dish for a few minutes at the end is totally optional, but I like the nice golden brown crust it gives the cauliflower and potatoes.
How to Cook Whole Cauliflower in the Slow Cooker
Of course if you don't feel like heating up the kitchen--or you're not gonna be anywhere near the kitchen—just pop your veggies in the slow cooker instead. It will still cook beautifully.
You may need to experiment with the temperature and time to achieve your desired level of 'doneness'—it's easy to overcook cauliflower into a mushy mess. I'd recommend checking before the recommended cooking time is up to get a read on your veggies, at least the first time you try the slow cooker version.
Slow cooker cauliflower can be finished under the broiler too, but be sure to move it to a broiler safe (not glass!) dish first. A smart move might even be to choose a dish that can go from oven to table. 🙂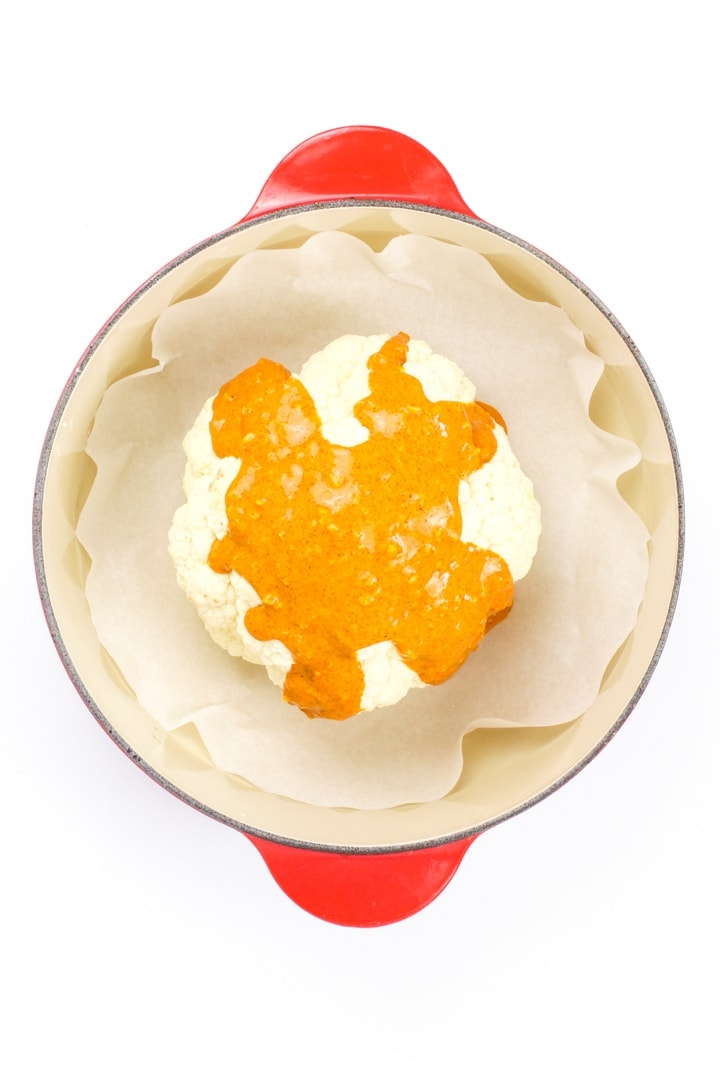 Is Spicy Food Good for You?
Growing up in my Midwestern family, spices consisted primarily of salt and pepper. Until Mrs. Dash came along, and everyone started putting it on just about everything. It wasn't until I flew the nest that I discovered my love of spicy food and global flavors.
Hot or not, adding spices to your dishes can help you stay healthy. In fact, many of the spices used in Indian cooking—and in this whole cauliflower tandoori, like ginger, garlic, chilis, turmeric and cumin—are believed to be among the most health promoting.
I like an authentic, hot & spicy tandoori masala (spice blend) for this recipe, and 2 tablespoons at that. But you can certainly tone it down by choosing a less spicy blend, and using about 1 tablespoon. I've done both, and the dish is wonderful both ways.
Not a fan of tandoori or can't find it locally? Try curry powder—it's a great substitute here.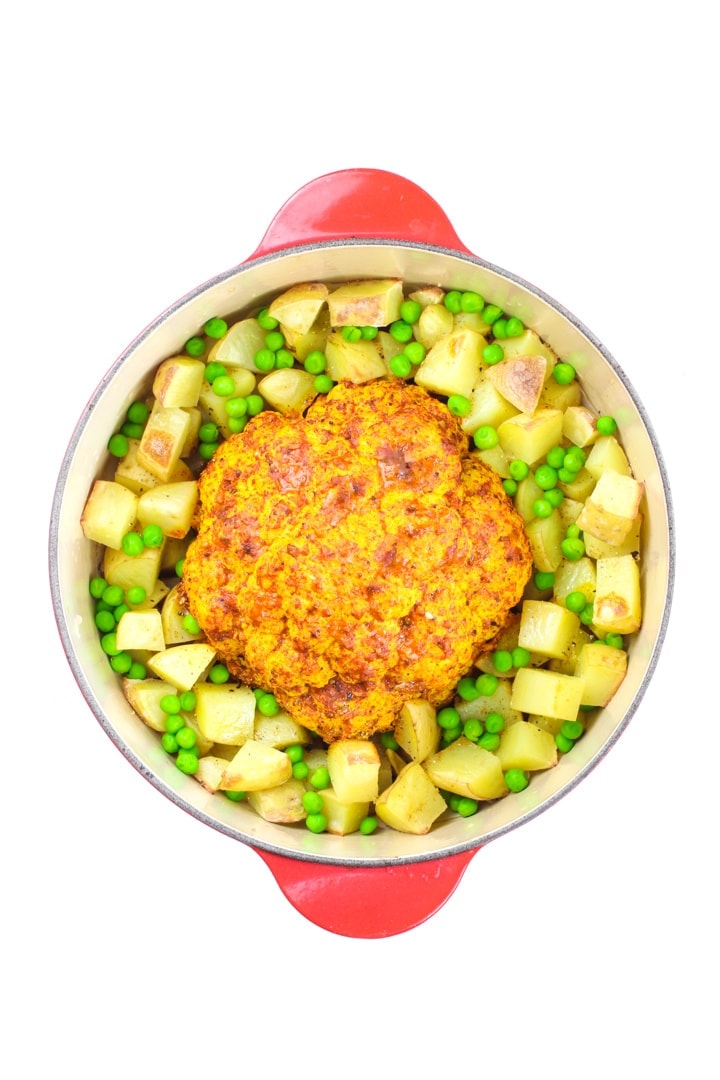 How to Serve this vegan Whole Roasted Cauliflower Tandoori
I like to place everything in a pretty serving dish for the table, because it's just a joy to look at in all it's golden-red glory. If you're not feeling quite so formal, you can just hack off a quarter at at time and serve it straight from the kitchen.
When you scoop up the potatoes and peas, there will probably be a bit of sauce that pooled in the bottom of the pot. I like to drizzle this over my peas and potatoes for a bit of extra flavor.
And do—please do!—include fresh lemon wedges with each serving, and/or squeeze a little over everything before it hits the table. Lemon adds a bit more moisture and is the ideal complement to the heat of the tandoori spices. Really, this dish just isn't quite the same without it.
That's it, dinner's complete! Of course, a nice crisp Indian vegan beer is lovely with this recipe, if that's your thing.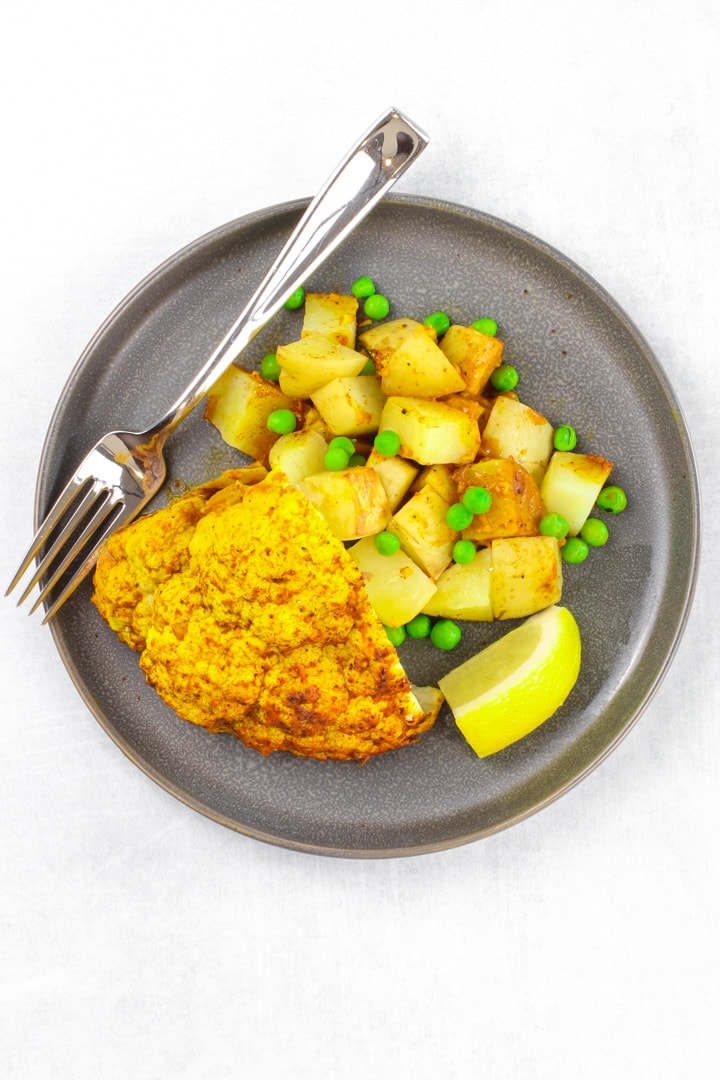 If you like this healthy vegan recipe, you might also like:
📖 Recipe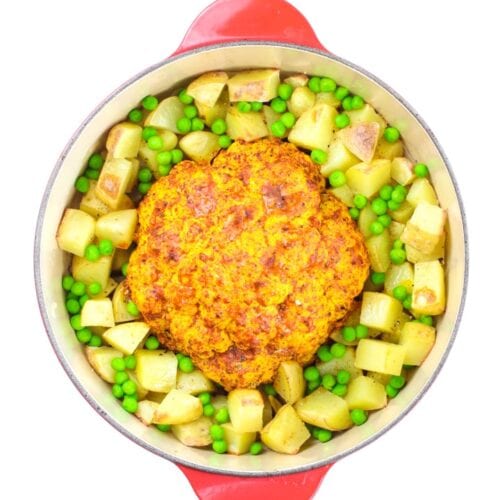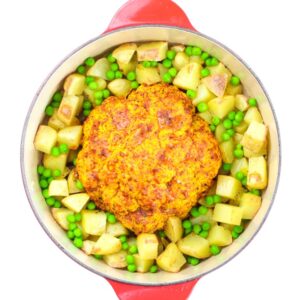 Whole Roasted Cauliflower Tandoori
Whole Roasted Cauliflower Tandoori is an easy 1-pot dinner that's full of spicy North Indian flavors. Just 10 minutes of prep, and the oven or slow cooker do the rest.
Print
Save
Saved!
Pin
Rate
Ingredients
1

large head cauliflower

washed and leaves removed

4

Yukon gold potatoes

scrubbed and 1-inch diced

5

ounces

frozen peas

thawed (½ a 10 ounce bag)

Sea salt & freshly ground black pepper to taste
For the Tandoori Yogurt Sauce
½

cup

plain non-dairy yogurt

(see notes for a yogurt-free option)

1

tablespoon

grated ginger

2-3

large garlic cloves

smashed and finely minced

½

lemon

juiced (plus 4 lemon wedges for serving )

1-2

tablespoons

tandoori spice

or more, to taste. Sub curry powder if desired
Instructions
Preheat the oven to 400 degrees Fahrenheit. (See notes for slow cooker option.)

Line a Dutch oven or oven-proof pot (not too large) with with parchment paper. (See notes.)

In a small bowl, whisk together the yogurt, ginger, garlic, lemon and tandoori spice.

Place the cauliflower in the center of the pot, and pour the tandoori yogurt sauce over the top. (Don't be afraid to use all or most of the sauce!) Use a marinade brush or your hands to make sure the entire head is well covered with sauce.

Surround the cauliflower with the diced potatoes. It's okay to add the peas now if you like, but they will become quite well done. I like to add them at the last 5 minutes of cooking, and then broil them with the rest of the dish.

Place the pot in the center of the oven and bake for 45-50 minutes, or until the cauliflower and potatoes are tender. Add the peas after about 40 minutes if you didn't do so earlier.

If desired, remove the lid and broil on high for 3-5 minutes, or until golden brown. Make sure your pot is safe at high cooking temperatures; if not, transfer to another dish for broiling. (DON'T broil in a glass dish!)

Serve with wedges of fresh lemon (or finish with a squeeze of fresh lemon.) Don't skip this--it absolutely elevates the dish.
Notes
For a yogurt free option, use aquafaba--the liquid from canned or cooked chickpeas.
To cook in a slow cooker, line with parchment paper and cook on high for 3-3.5 hours or low 4.5-5 hours. To broil after cooking, carefully transfer the cauliflower, potatoes and peas to a broiler safe baking dish (not glass!), and broil on high for 3-5 It's best to use a Dutch oven or pot just large enough to fit your ingredients. (Like the one pictured.) If it's too large, the veggies could get dry. To cut your parchment paper to the right size, place the lid of your pot on the paper, draw a circle around it and cut it out. This should be just a little bigger than the bottom of the pot.
Nutrition (approximate)
Calories:
194
kcal
|
Carbohydrates:
39
g
|
Protein:
10
g
|
Fat:
1
g
|
Saturated Fat:
1
g
|
Sodium:
67
mg
|
Potassium:
1260
mg
|
Fiber:
10
g
|
Sugar:
7
g
|
Vitamin A:
285
IU
|
Vitamin C:
114.2
mg
|
Calcium:
142
mg
|
Iron:
7.2
mg