If you've ever wondered, 'What do vegans eat for breakfast,' wonder no more! Here's a collection of healthy vegan breakfast ideas to get your inspired—and help you start the day off right.
Energy Balls & Bites
You'll find plenty of recipes for energy balls and bites on Pinterest and the web. But my No-Bake Carrot Cake Bites use only healthy ingredients like carrots, walnuts, flax, turmeric—just the good stuff!—with no oils or refined sugars. Plus, they're positively addictive, but in a really good for you, healthy kinda way.
Healthy Midwestern Girl - No-Bake Carrot Cake Bites
Overnight Oats
This vegan overnight oats recipe with banana, walnuts and dates is simple, satisfying and nutritious. It's absolutely delicious. And it's ready and waiting for you when you wake up, but it tastes 'just made.' I say 'trick' because, there is indeed a little trick to keeping your overnight oats from turning to mush.
Healthy Midwestern Girl - Banana Overnight Oats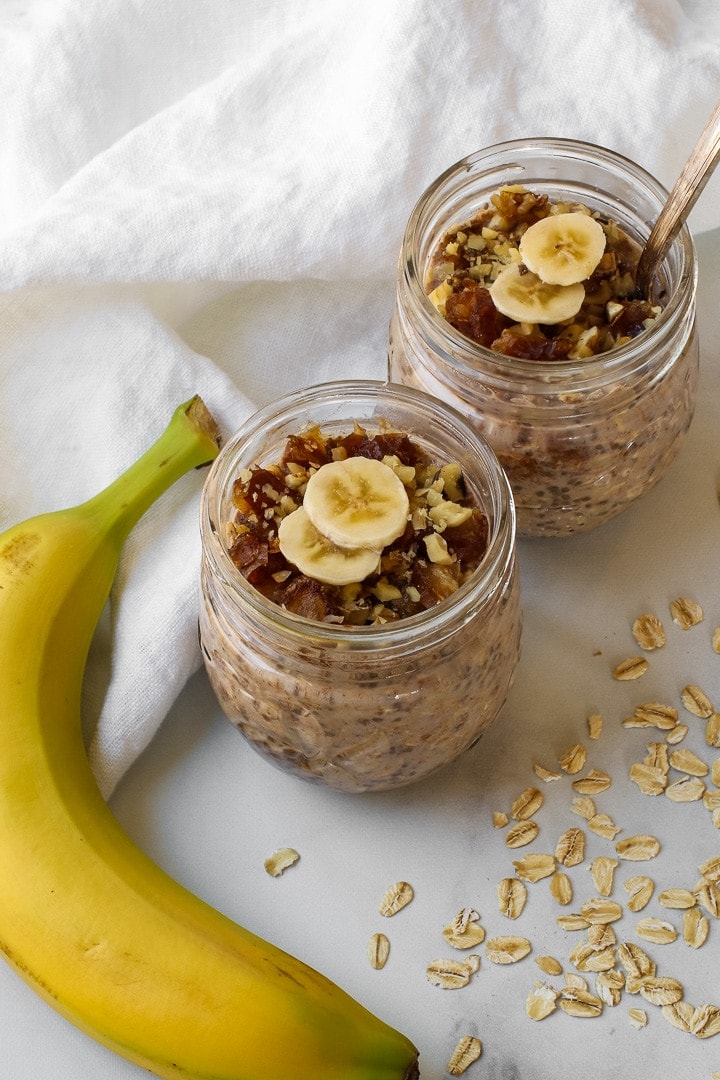 Granola & Breakfast Cookies
Many brands of granola contain honey as a binder, making them not vegan. So it pays to check labels when buying commercial brands. Of course, for the most delicious, toasty and satisfying granola, we can just make our own at home. (It smells AH-mazing in the oven!) In the case of this sugar free granola recipe, it bakes up in less than half an hour, and it's totally healthy—with no oils, flours, refined sugars or processed ingredients. Enjoy it as a quick, convenient cereal or breakfast on the go.
Healthy Midwestern Girl - Sugar Free Granola
Healthy Midwestern Girl - 3-Ingredient Vegan Oatmeal Cookies (Breakfast Cookies)
Quick breads
You can find recipes for healthy vegan pumpkin bread, banana bread, gingerbread--pretty much any quick bread recipe can be made vegan with a few careful ingredient substitutions.
Creating a super moist, light and crumbly loaf of quick bread with no oil or butter can be a challenge. Extra challenging if you're also looking for a whole food, gluten free recipe. After a bit of trial and error, this scrumptious Vegan Pumpkin Bread with Chocolate Chips recipe was born!
Healthy Midwestern Girl - Vegan Pumpkin Bread with Chocolate Chips
Pancakes & French Toast
When I first became vegan, I really missed going out for pancakes or French toast. But you don't have to give them up! Unless you can find them where you live, you just have to make your own egg-free, dairy-free versions at home! Here are some yummy and creative recipes from This Healthy Kitchen, Nutriplanet and yours truly.
Healthy Midwestern Girl - Apple Cinnamon French Toast
This Healthy Kitchen - Lentil Banana Protein Pancakes
Nutriplanet - Sourdough Pancakes
Tofu Scrambles
What do vegans eat for breakfast when they're missing scrambled eggs? Pressed, crumbled, extra-firm tofu is a great way to satisfy any scrambled-egg cravings, and it's easy to throw in some veggies and seasonings to jazz things up. Here are two easy scrambles form Sarah's Vegan Guide, and Plant and Vine.
Sarah's Vegan Guide - Tofu Scramble Breakfast Bowl
Whole Grain Breakfast Bowls
What do vegans eat for breakfast rather than processed boxed-cereals? Most days, we usually eat a simple bowl of warm, whole-grains for breakfast, like faro or quinoa, with berries, walnuts, flax and a healthy sprinkle of good cinnamon. Like this Quinoa Porridge and Berries recipe. And a delicious, hearty oatmeal recipe (like this one from Woman in Real Life) is always a welcome option!
Healthy Midwestern Girl - Quinoa Porridge with Berries
Woman in Real Life - Instant Pot Maple Pecan Oatmeal
Toasts
Toasts are all the rage in vegan restaurants, and it's no wonder. They're not only simple to make, they're satisfying, delicious, and incredibly versatile! They're great for a fast, hearty breakfast, but I eat them for lunch or a snack too. You really can't go wrong with a good toast. 🙂 Here are two of my favorites. (And yes, you can and should eat beans for breakfast!)
Healthy Midwestern Girl - Avocado Pea Mash Toast
Soups (Yes, Soups!)
As strange as it may sound, when you switch to a plant-based diet, savory and veggie-centered breakfasts become more appealing than ever. A light soup like this Spinach Soup with Ginger Broth can make a wonderful, warming start to the day. And you can whip this recipe up in under 15 minutes, making it morning-friendly--even if you're not.
Healthy Midwestern Girl - Vegan Spinach Soup with Ginger Broth