A Vegan Oil Free Mayo recipe you can make 4 ways: 1) tofu mayo, 2) cashew mayo, 3) tofu garlic mayo (aioli), and 4) cashew garlic mayo (aioli).
Mayonnaise is problematic in a whole food plant-based diet for two reasons: 1) it's traditionally made with eggs, and 2) even vegan mayonnaise is usually made with oil. You can buy oil free mayo made with eggs. Or you can find egg-free mayo made with oil. But so far, I've yet to find a Vegan Oil Free Mayonnaise at the store. So--as with many other WFPB foods--we're left to make our own.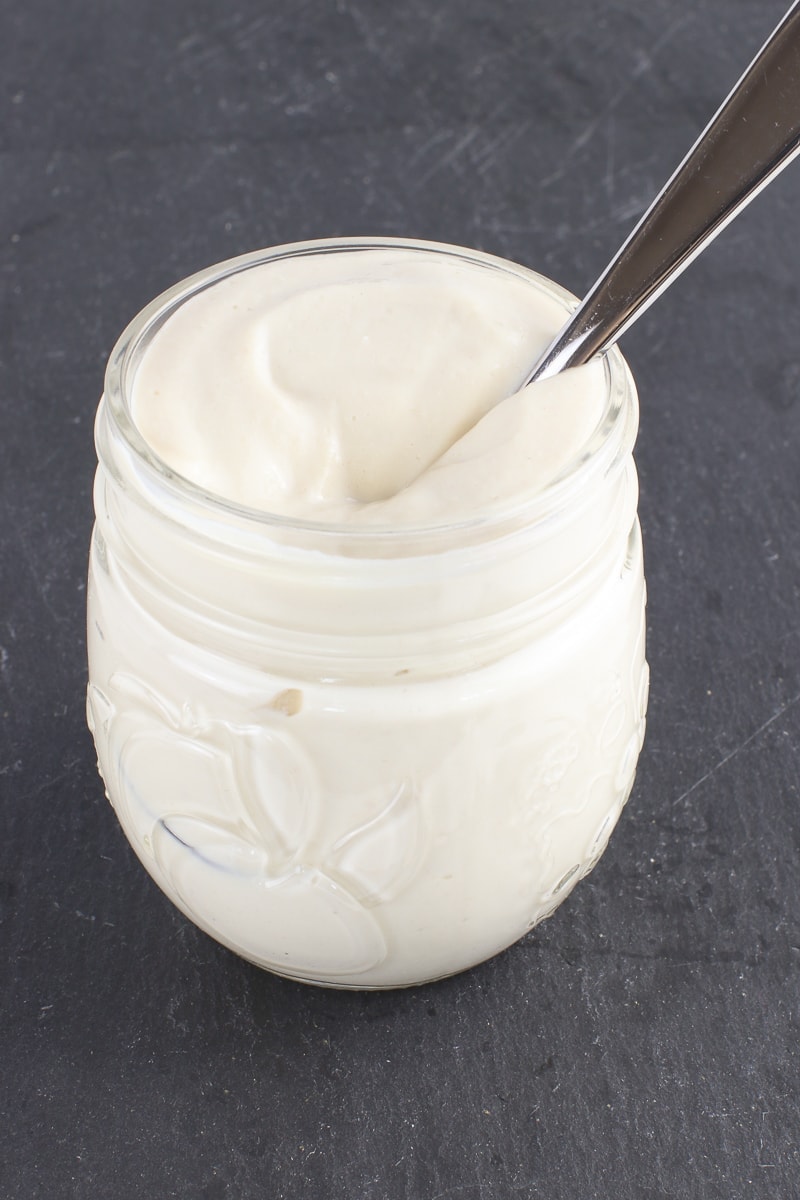 (Read about why to avoid oil here.)
I suppose you could get away without ever eating mayo. For example, I skipped mayo altogether in my Vegan Egg Salad recipe and used avocado instead. But it's a key ingredient in so many of the traditional recipes and dressings I grew up with--like my Grandma's potato salad--it's kind of nice to have a healthy, plant-based version on hand.
It's also amazing as a sweet in creamy dressing, like in this Vegan Broccoli Salad with Smoky Almonds and Raisins.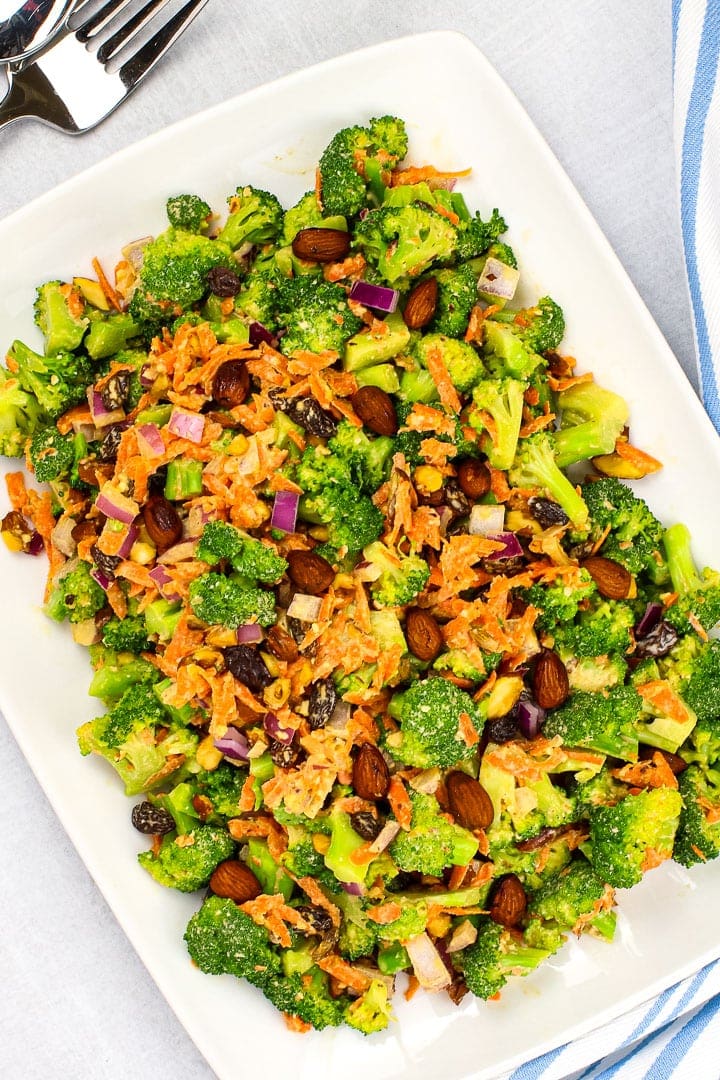 4 Ways to Make Oil Free Vegan Mayo
While creating this vegan mayon recipe with no oil, I ended up with four versions: 1) vegan oil free mayonnaise made with tofu, 2) vegan oil free mayonnaise made with cashews, 3) vegan oil free mayonnaise made with tofu + garlic—otherwise known as vegan aioli, and 4) vegan oil free mayonnaise made with cashews + garlic—also otherwise known as vegan aioli.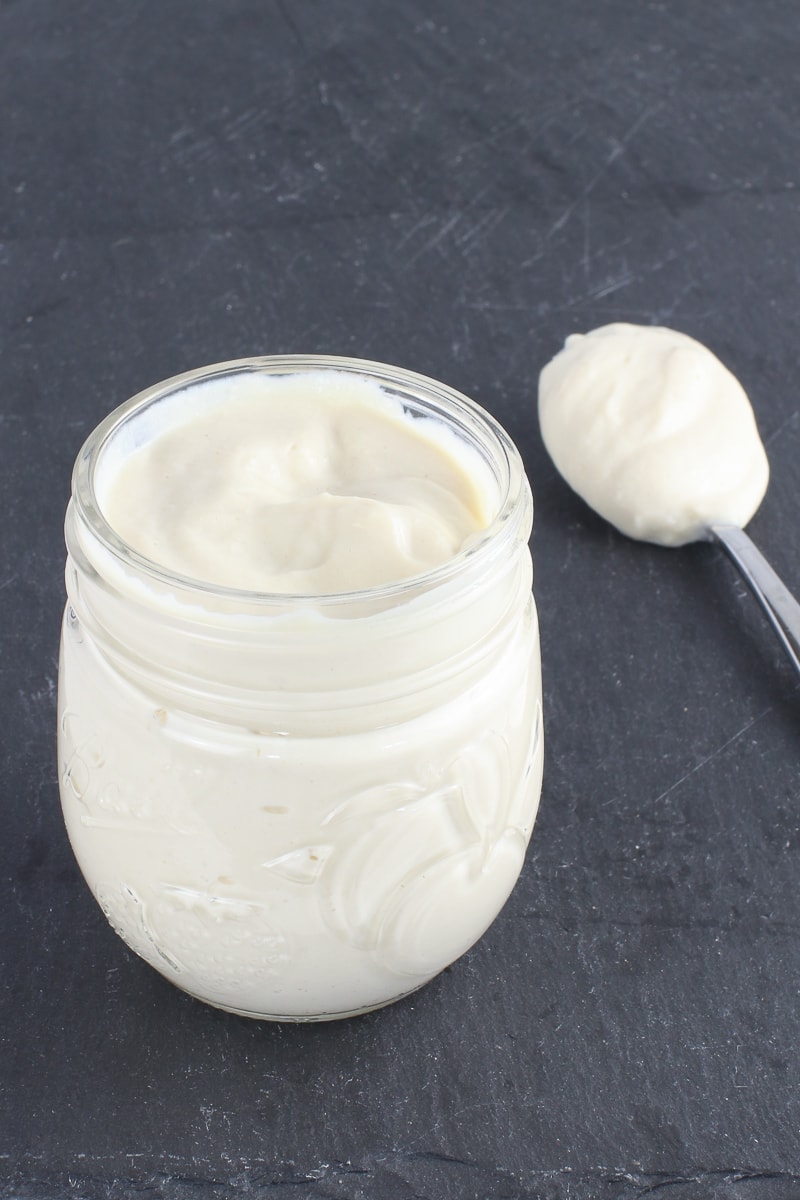 I created the original recipe with tofu, and I like this version because it's tasty, budget-friendly and low in fat. But, I know some of you can't eat soy, so I created a second version made with cashews. This version is richer, with and a slightly milder flavor. It's also more WFPB compliant, as it avoids the processed tofu.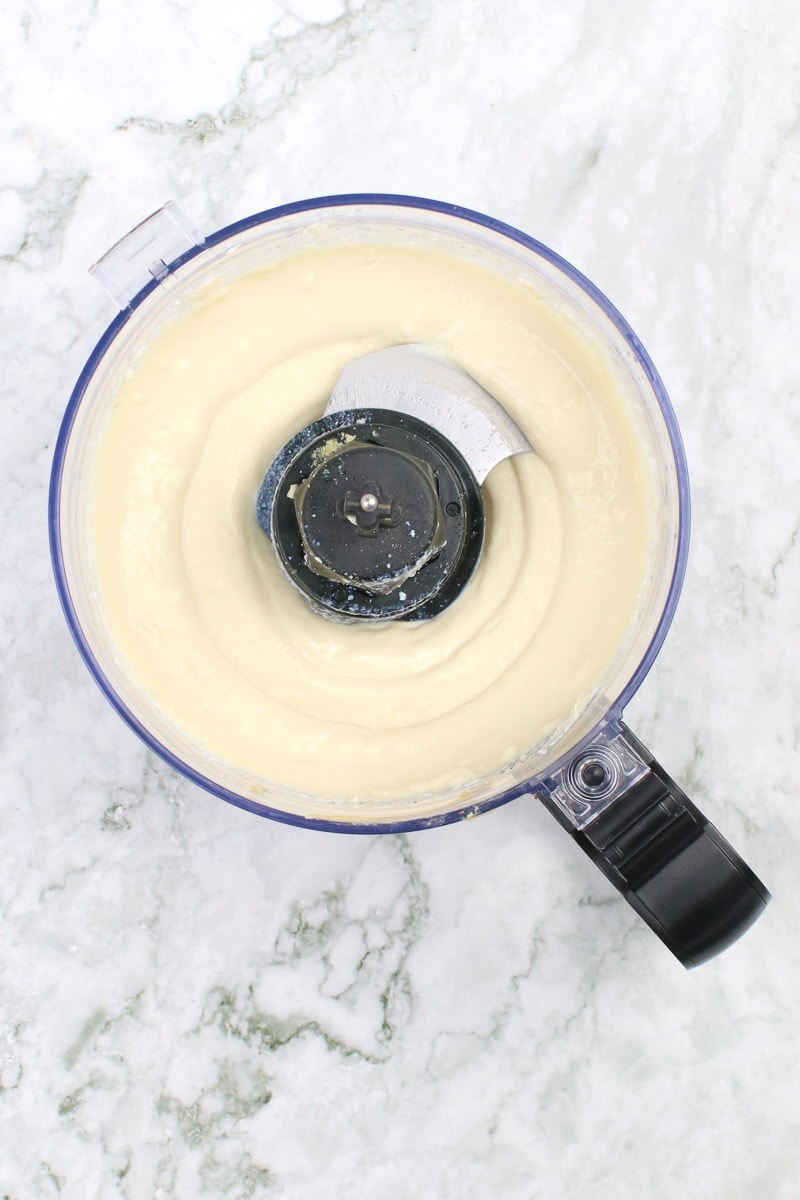 How to Make Vegan Oil Free Aioli
Playing around with this vegan oil free mayonnaise recipe got me thinking about how much I love aioli, which is similar to mayo, but made with garlic. While mayo is great as a base in recipes, when it comes to a sandwich topping or a dipping sauce, I prefer aioli. Am I alone on this one? I love dipping crispy veggies--like my Oil Free Baked Za'atar Fries--into a little pot of creamy, tangy, garlicky aioli.
In this recipe, converting vegan oil free mayonnaise into aioli is as simple as blending in some well smashed raw garlic.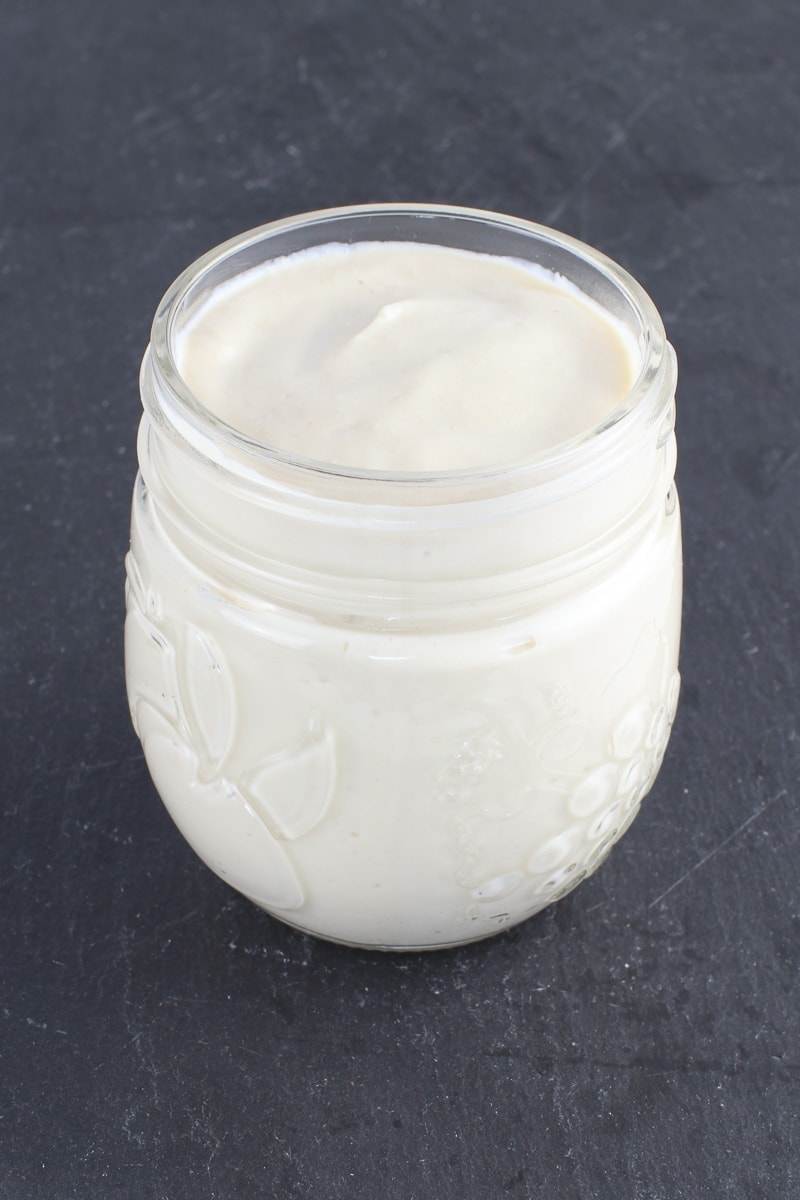 Either way--mayo or aioli--I like to let it sit in the fridge for about 30 minutes to fully marry the flavors. Of course, you can eat it right away if that needs to happen. I get sometimes this needs to happen.
Note: The tofu version will last about 3 days in the fridge, and the cashew version is good for about 5-7 days. They both freeze well, so that's an option too.
I LOVE hearing from you! It would make my day if you'd be so kind as to:
Rate this recipe and/or leave a comment if you make it. (Under the recipe picture or below the recipe.)
Thanks bunches and happy, whole-food cooking!
If you like this whole food plant-based recipe, you might also like:
📖 Recipe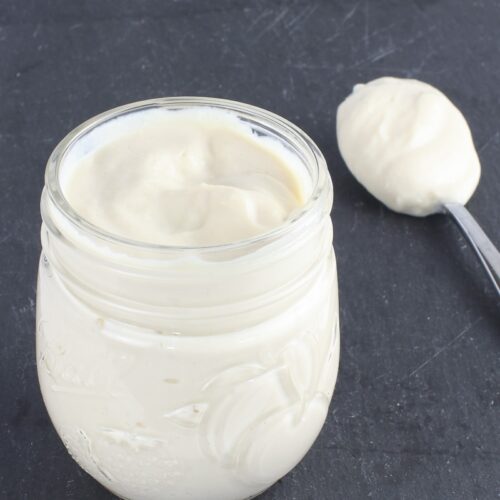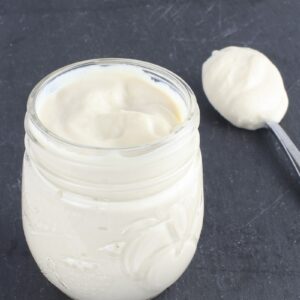 Vegan Oil Free Mayonnaise - 4 Ways
Vegan Oil Free Mayo - 4 Ways: 1) tofu mayo, 2) cashew mayo, 3) tofu garlic mayo (aioli), and 4) cashew garlic mayo (aioli).
Print
Save
Saved!
Pin
Rate
Ingredients
For the Vegan Oil Free Mayonnaise [with Tofu or Cashews]
1 12.3

ounce

package firm or extra firm silken tofu

(see notes. OR use 1 cup cashews soaked in boiling water 30 minutes + ½ cup plain plant milk)

2

tablespoons

lemon juice

(about 1 lemon)

1

tablespoon

apple cider vinegar

2

teaspoons

Dijon mustard

½

teaspoon

onion powder

¼

teaspoon

garlic powder

½

teaspoon

salt

Optional but recommended: ⅛ +/- teaspoon kala namak

(see notes)
To Make Vegan Aioli (use the ingredients above + garlic)
2

large cloves garlic

smashed and finely minced
Instructions
Place all of the ingredients in a food processor (or a blender, if making the cashew version), and process until smooth and creamy, about 1 minute. For the best flavor, allow to rest in the refrigerator for at least 30 minutes.
Notes
Nutritional information is approximate and is shown for mayonnaise made with tofu.
Serving size is approximately 1 heaping tablespoon.
You can use either firm or extra firm silken tofu for this recipe, however if you're going to use it to make a dressing where you'll be adding other ingredients like vinegar, maple syrup, etc. I recommend the extra firm tofu if you'd like to keep the dressing a little thick and creamy.
Kala namak, or Indian black salt, is optional but highly recommended. It has a mild sulfur flavor (like eggs) that makes it taste more like 'real' egg-based mayonnaise.
Nutrition (approximate)
Calories:
17
kcal
|
Carbohydrates:
1
g
|
Protein:
1
g
|
Sodium:
92
mg
|
Potassium:
48
mg
|
Vitamin C:
1
mg
|
Calcium:
9
mg
|
Iron:
0.2
mg